Who We Are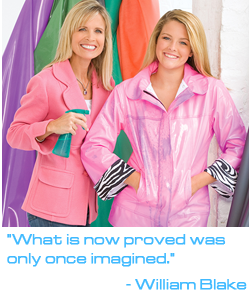 Chameleon's history is as unique and remarkable as the ChroMyx™ product itself. The Chameleon team believes in dreaming big! After all, it's how it all got started.
One night, a little girl named, Lauren, had a dream about a magical raincoat. The next morning, her family listened intently as she described herself playing in the rain, wearing her favorite purple raincoat and wellies. What happened next is why we believe "Color Changes Everything™". In great detail, she recounted her adventure. She danced in the rain and splashed through puddles, watching in amazement as her magic raincoat changed to her second favorite color, pink.
The mother, sharing her daughter's enthusiasm, began to ask herself, "What if?" But how does a dream become a reality when the material does not exist?
Invent it!
Since 2001 Debra Aperfine and the Chameleon team have met every challenge head-on and continue to find a way through the impossible. The team began immediately working on development of a consumer friendly, color changing technology, experimenting with pigments, polymers and other raw materials for the first successful production run in early 2006. It was during this time period the team successfully made Lauren's dream come true.
Chameleon International is the worldwide manufacturer of the patented product line of ChroMyx™. Our products are offered directly through Chameleon, and authorized distributors and licensees. We offer a broad range of color changing, temperature activated film and sheet material through diverse manufacturing capabilities. Chameleon's team of innovative engineers, pigment specialists, designers and manufacturing experts have grown since those earlier years but the addition of each new team member and partner brings more determination, enthusiasm and knowledge to the team, allowing us to expand and explore the impossible!