Chameleon International launches Chameleon Brandz, LLC website for the color changing craft tape and more… Check it out at   www.chameleonbrandz.com.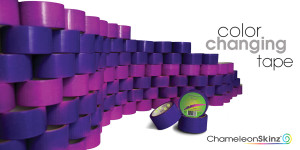 Chameleon Skinz™ is a one of kind, patented, innovative, waterproof, temperature- sensitive color changing tape.  Chameleon Skinz illustrates fun and safe reversible color change by touch of the hand or colder temperatures allowing endless interactive and unique creative design.
 Chameleon Skinz color changing tape sparks the imagination and stimulates your senses.  See below for the first colors introduced at the show.